Designed in Singapore, the Gill Mask is a timely homegrown innovation in face of a global shortage of face masks due to the COVID-19 pandemic.
Extend mask inventory by 
6 times!
Gill™ is the first product developed under mas™. 
It was developed in Singapore to address the COVID-19 surgical mask shortage that was affecting Asian countries in early 2020. 
When everyone was rushing to find or produce more surgical masks, we simply took the problem from a different angle, and focused on reducing the surgical mask consumption and offer better sealing.
​Mdesign team used their expertise in designing  medical devices, user experience and snorkeling masks to develop this product.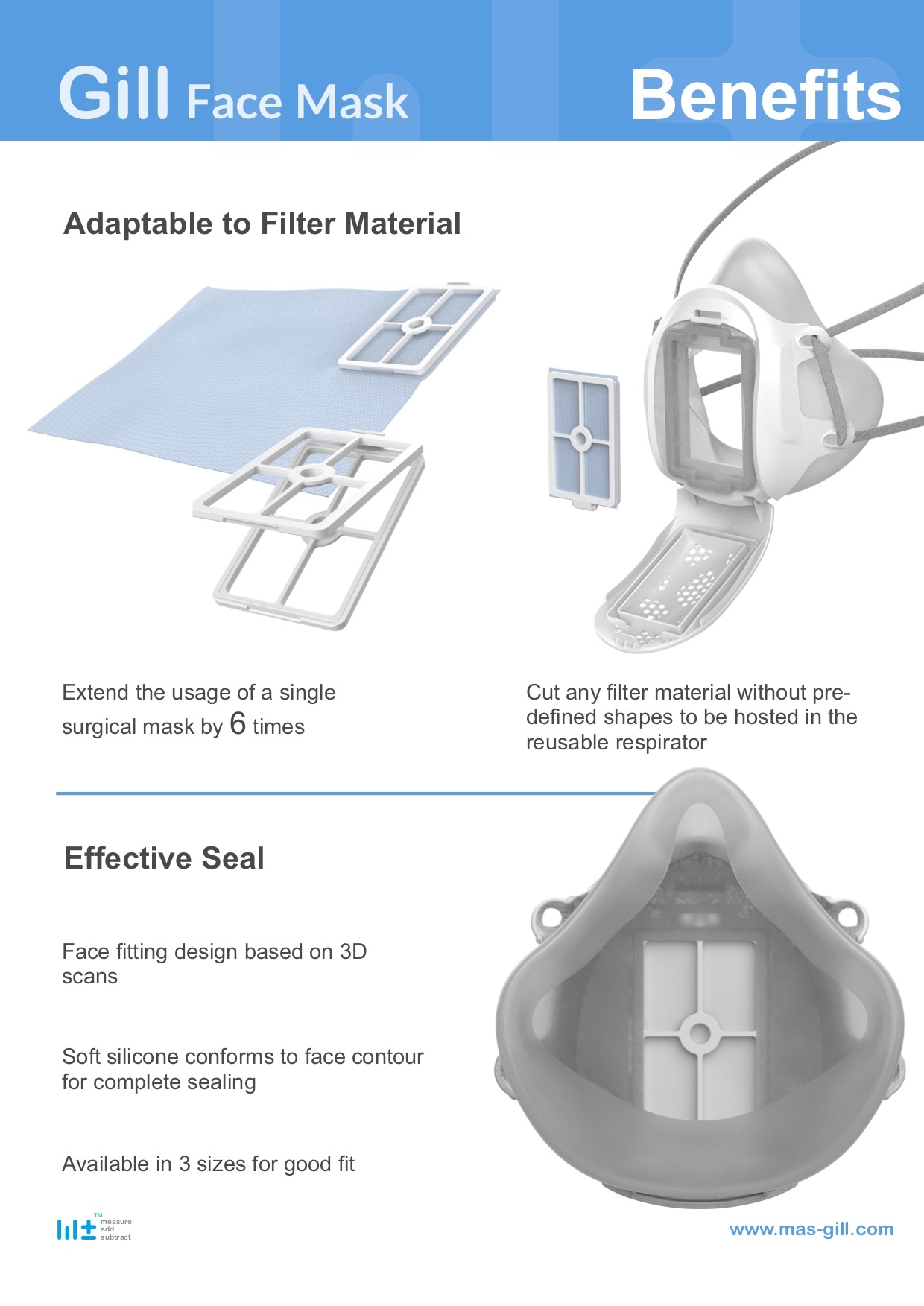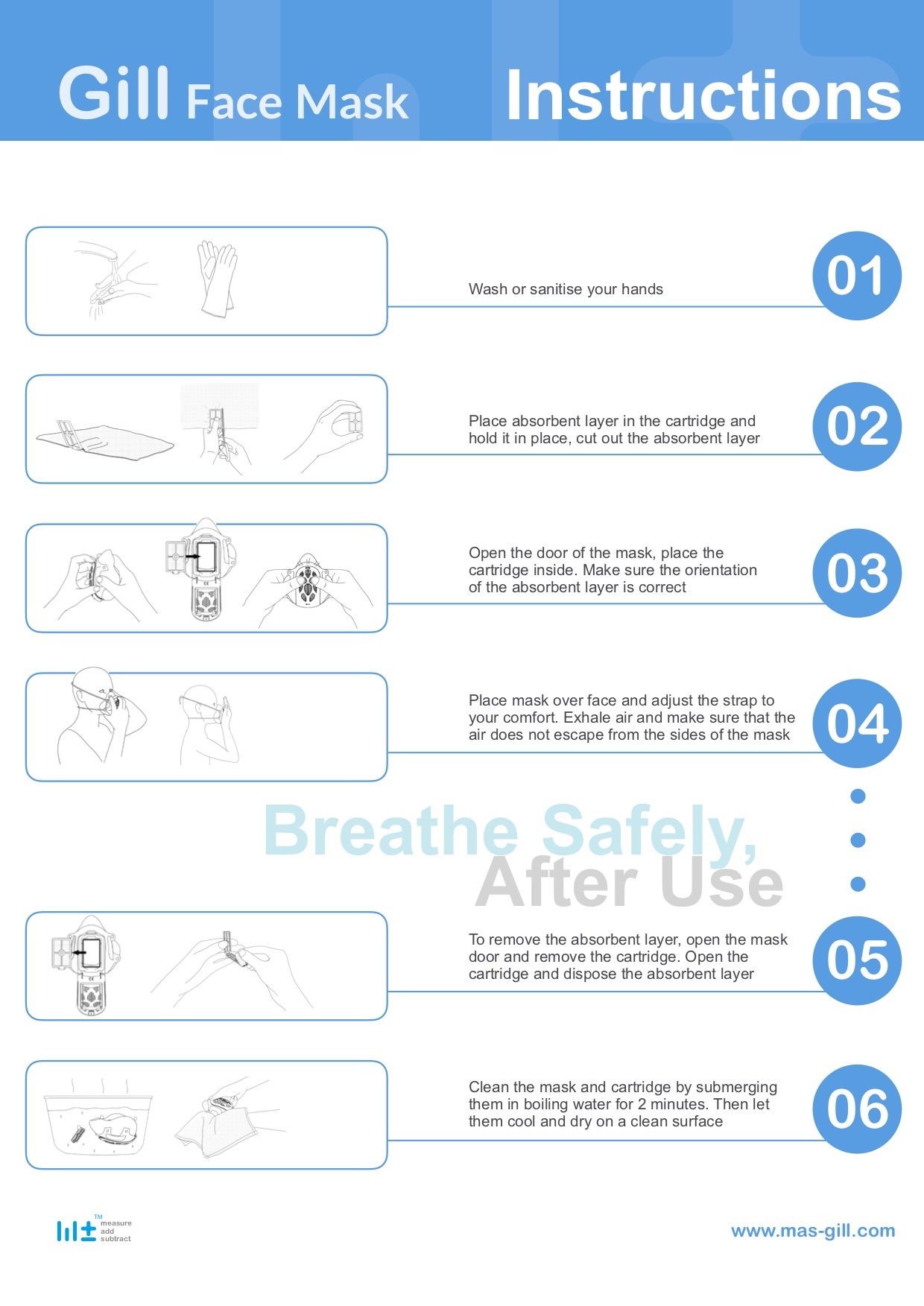 Product

Maintenance
Purpose
This document highlights the maintenance of GillTM face mask respirators over its lifetime, for all sizes available.
Storage
GillTM can be stored in any environmental conditions without damage. It is recommended to clean the components after a long period without utilization.
Cleaning procedure
We recommend performing the cleaning procedure before usage or storage. Before cleaning, remove the filter from the cartridge.
For NORMAL cleaning:
Clean GillTM respirator and its cartridge by:

Dipping components in warm water with a cleaning solution (see below*), or

Submerging components in boiling water for 2 minutes.

Rinse components thoroughly in clean and warm water.

Drain the water from the components.

Hand dry the components with a clean lint-free cloth or let them dry on a clean

surface.
For THROUGH cleaning, the following actions can be added to the Normal cleaning procedure:
Before cleaning, you may use a stiff bristle (not wire) brush to facilitate the removal of dirt.

Before cleaning, you may disassemble the Silicone Facepiece of GillTM respirator by removing if from the main casing. Perform the cleaning procedure on components before reassembling Silicone Facepiece with the main casing.
Inspect visually and test the respirator to ensure that all components work properly.
*Cleaning solution
GillTM may be cleaned in a mild detergent or a disinfectant in water. (Please follow the instructions recommended by the manufacturer). Alternatively, the below cleaning solutions may be used:
Hypochlorite solution (50 ppm of chlorine) made by adding approximately one millilitre of laundry bleach to one litre of warm water, or

Aqueous solution of iodine (50 ppm iodine) made by adding approximately 0.8 millilitres of tincture of iodine (6-8 grams ammonium and/or potassium iodide/100 cc of 45% alcohol) to one litre of warm water.
Other cleaning methods
GillTM respirator may be used in different operating environments. Different methods of cleaning and disinfecting may be required. Below are some methods that will not affect the efficacy of this product.
Alcohol Wipe (70% Alcohol v/v)

UVGI (0.5-1.8 J/cm2)

Vaporous Hydrogen Peroxide (VHP)

Warnings

GillTM materials have been chosen to sustain 120°C without any damage. Beyond this point, deformation may occur.

Detergents or disinfectants that dry on facepieces may result in skin issues. Please refer to the manufacturer recommendations.

Do not use if any parts are torn and defective after cleaning.

Product Disposal

GillTM respirator is made of recyclable material. Please consult your local authority for information regarding disposal and recycling.